Polycystic Ovary Syndrome (PCOS) is the most common reproductive endocrine disease among women of childbearing age. Around 70% of the infertile women coming to our clinic are with PCOS, In fact, 5-10% of teens and young women with irregular menses have this diagnosis. we all know homeopathy is gaining acceptance and popularity among the people a lot of patients are coming to us every day with PCOS.
The name "Poly", meaning "many", and "Cystic", meaning "cysts", refers to the fact that those with PCOS may have enlarged ovaries that contain many very small cysts. Normally during a menstrual cycle, only one egg will releases when it grows up to around 18 mm but in PCOS more than 15 small follicles develop in the ovary but they will not grow more than 10 mm and the ovulation will not takes. The outer wall of the ovaries thickens giving the ovary a polycystic appearance. These cysts are not cancerous and do not need to do a laparoscopy, if we do laparoscopy within 3 months after laparoscopy condition will be same as before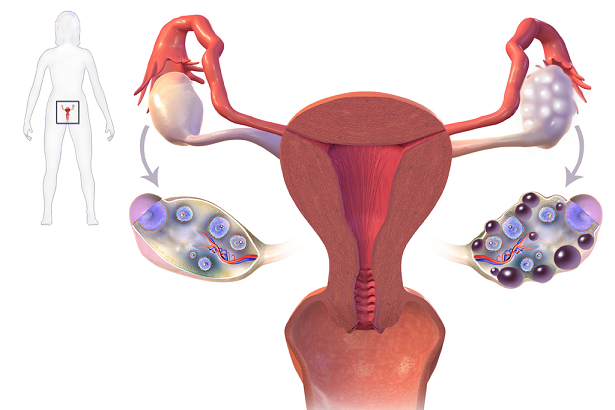 What can we do with Homeopathic medicines
Treatment   of PCOS primarily involves prescribing a constitutional Homeopathic remedy capable of working on the ovaries and the entire endocrinal system.  This approach usually helps in correcting the pathology associated with PCOD.
Get Appointment right away
Those who are  dejected and had approached Dr Ashfaq Hamza Centre as a last resort for expectation are blessed with the cherishing of their dreams.
If you wish to consult with the doctor, it's better to call and confirm the availability on that day you intend to visit.